On this page, i'll be explaining in detail How to Win Cut 1 on Bet9ja, Sportybet, Betbonanza Etc. We all Want to win if 1 game cuts. We do not want losses to be more than wins. It doesn't feel so good at all if at the end of the day you discover that One game messes up a ticket that would have fetched you good money. It's always frustrating. Sometimes you get angry with yourself and start to think if there's something about you that doesn't allow you to win. You can actually still win your bet if 1 of the games you book on one ticket cuts. But before you must win cut 1, you have to select up to 5 event on one bet slip (Ticket).
If just one of your game selections loses, you can still win cash out of up to 50% of your potential winnings with the cut feature. So in the example above, if one of your choices is lost, your potential winnings would be reduced to 360.00 via the help of a cut feature (50% of the original 720.00).
Here, passionpredict has come with a guide that will help you to win your bet if 1 Game Cut. These guides will cover bet9ja, Sportybet, Betbonanza, Etc.
How to use Cut 1 On Bet9ja in Nigeria (2023 )
Be9ja is a top Betting Platform in Nigeria that has a lot of great features. One of the great features on Bet9ja is Cut 1. This features allows users to get paid when one of the selected game cuts. This means the ticket paid amount is based on your game selections on the ticket, the total game odds, and the game selection that cuts your ticket. Bet9ja allows you to choose whether you want to use the feature on your ticket or not. So Cut 1 is a great opportunity which means not leave your Bet9ja game ticket without being paid, but remember to choose Bet9ja Cut 1 availability as we have already mentioned; it is up to you to use the Bet9ja Cut 1 or not.
Create your multiple as normal – Remember it will need to have at least 5 events to qualify for Cut 1!
Select the 'Cut 1' option on your betslip.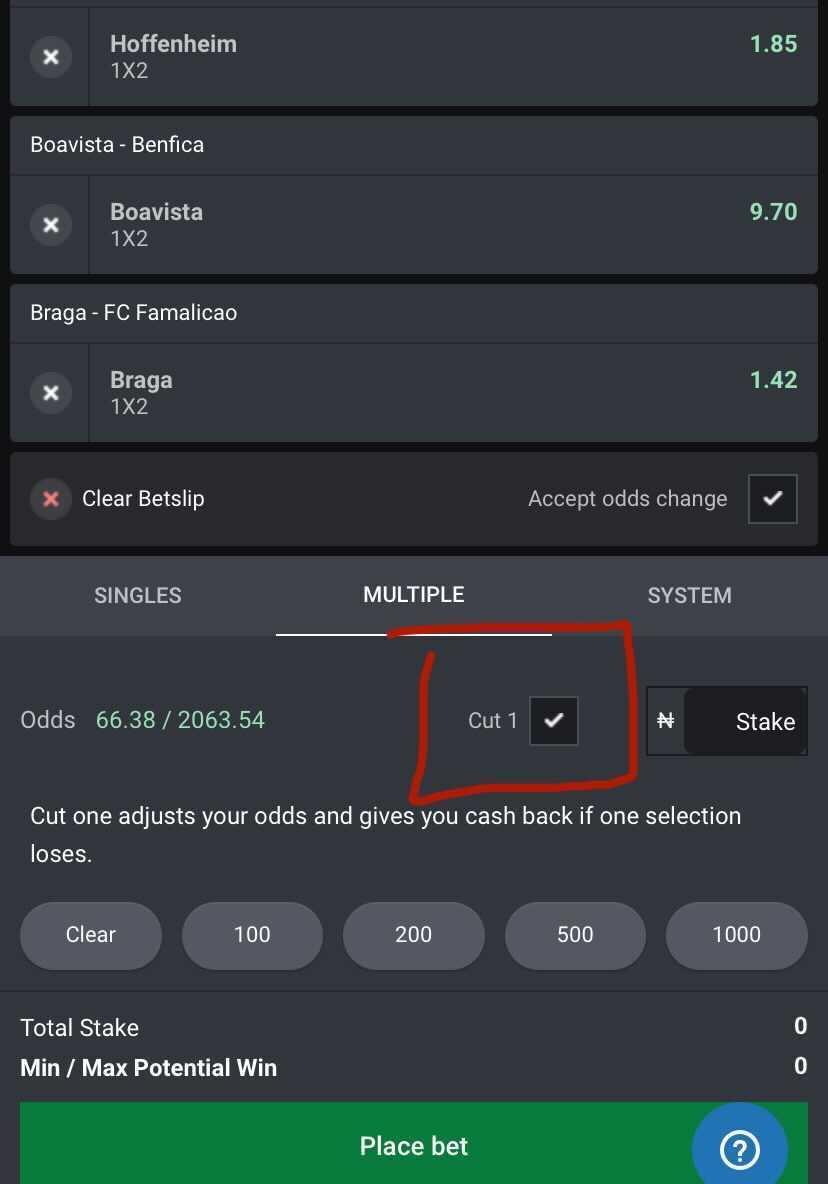 Stand a Chance To Win Bets Easily from Top-Notch SURE Tips >>> CLICK HERE To Get Daily Sure Football Predictions From Experts.
Your odds will be recalculated, allowing you to still win even if one game cuts your ticket
The payout will depend on which game cuts, with your odds recalculated accordingly
Bet9ja Cut 1 Terms & Conditions
By ticking the 'Cut 1' box you agree to accept the lower maximum payout displayed on your betslip
The 'Cut 1' feature will only be available on multiples of 5 legs or more
The 'Cut 1' feature is available on any sports multiple
The 'Cut 1' feature does not affect the Bet9ja up to 170% Multiple Boost
The 'Cut 1' feature cannot be used in conjunction with sports bonuses
The payout on a 'Cut 1' accumulator will be recalculated depending on the odds of the winning selections in the multiple
How to Win Cut 1 on Sportybet
Sportybet Will Still Pay You If One Game Cut Off Your Bet If You Do This, Football betting strategy
Have you ever experienced something similar? After betting on 15 games, say, one useless team now cuts your betting ticket while you wait for the final game to earn your possible winnings. SportyBet has you covered!
Nothing is more devastating than when one team ruins your bet, as I'm sure most of you will agree.
You no longer have to worry about the 'one game cut syndrome' because SportyBet's 'Flexible Bet' allows you to get paid even if a game ruins your bet. Be assured that we will pay you even if one of your teams ruins your bet.
How is the "one game cut" implemented? For example, if you choose to wager on ten games at SportyBet, you can opt to get payment if nine of the ten games are successful. This implies that only if nine of your ten choices are accurate will you win that specific ticket.Sept. 13, 2018
We will still reimburse you for the other nine games that you were able to get even if you are unable to get one of the ten. Doesn't it sound intriguing?
The "Flexible Bet" option, which is applicable to all of SportyBet's numerous bets, does not, however, allow you to cash out. Instead, you can still get paid even if one game cancels your ticket.
Go on and start playing on www.sportybet.com, if one game cuts your ticket, SportyBet will still pay you!
How to Win Cut 1 on Betbonanza 
Our One Game Cut offer has not just been the talk of the Nigerian betting industry, but it has been an easy way for Kinsmen all over Nigeria to cash out every day. As the betBonanza Tribe, we pride ourselves on the simple principle, that if you go to the sportsbook, select 10 games with a minimum of 1.20 odds, and one game lets you down, you will be paid 10% of your winnings as cash instantly!
This offer has set the pace and drawn gaming enthusiasts to our offerings. Today, we will shine a bright light on some points to consider when jumping on the One Game Cut offer. Let's swoop in on them!
6 keys to winning big with One Game Cut!
Pick at least 10 games you like on a given ticket. This is the most important thing to do to get in the offer.
Each of the games you select should have a minimum of 1.20 odds. If any game is below 1.20 odds, your bet cannot enter the promotion.
Then wager a good amount, preferably above ₦1,000; although the minimum stake for a ticket to qualify is ₦100. So whether you got a deep pocket, or you are on a budget, you are covered by One Game Cut.
Then, don't be so quick to cash out. Be patient till all the games on your ticket end, and then you can get the goodies of the One Game Cut promotion if a game lets you down.
Also, be careful when choosing your selections. If any game is declared void or canceled, the ticket will not be participating in the promotion. So it's better to pick games you are kinda sure of.
Finally, you need to know how to calculate your total payout. Ticket pay-out is calculated excluding losing events and as 10% of the potential winnings.
Please see the table below for a practical explanation of what we have explained.
| | | |
| --- | --- | --- |
| Selection | Odds | Outcome |
| 1 | 1.20 | Won |
| 2 | 1.45 | Won |
| 3 | 2.00 | Won |
| 4 | 1.50 | Won |
| 5 | 1.60 | Won |
| 6 | 1.20 | Won |
| 7 | 1.67 | Won |
| 8 | 1.90 | Won |
| 9 | 2.00 | Won |
| 10 | 1.60 | Lost |
| Total Odds | 101.67 | |
| Total Odds excluding lost event | 63.60 | |
| Stake | ₦100 | |
| Potential winning excluding lost event | ₦6,630 | |
| Pay-out of 10% on potential winning | ₦636 | |
How to Win Cut 1 on ZEbet
DON'T BOTHER ABOUT THAT LAST GAME ON YOUR TICKET ANYMORE. PLAY WITH OUR CUT-1 PERMUTATION AND ZEBET WILL PAY YOU IF ONE GAME ON YOUR ACCUMULATOR CUTS.
How to play and win;
The minimum selection must be 8 games and above on a ticket
The minimum odds on each event must be 1.30 and above
How the Cut 1 Bonus is calculated;
Accumulator bonus will be subtracted foremost. For example, If you are given an accumulator bonus of N50,000 and your possible winning is N123,000 , then it will be calculated as N123,000 – N50,000 = N73,000.
The odds that cut your ticket will be divided by N73,000. For example, If the odds that cut your ticket are odds of 1.50, it will be N73,000/1.50 odds = N48,667. The N48,667 will now be divided by the number of games on the ticket. For example, you have 10 games; it will be (N48,667/10 games = 4,866.7).
Your stake amount is now divided by the number of games on the ticket to give the stake unit. For example, you staked N1,000, it will be now be N1000/10 games = N100 which is the stake amount.
The potential payout (Cut – 1) will be N4,866.7 – N100 = N4,766.7. The maximum refund is N100,000.
Allow for 24 – 48 hours for your cut -1 winning to be updated on your bet slip. You can also send your bet slip ID to [email protected] or contact us via any of our customer care channels for speedy resolution and payout.
NOTE: Bets placed with BONUS FUNDS DO NOT qualify to get paid.
You can still win football predictions here.